It's okay everyone, I just posted that because I was sad that my family's seder was over and because every single guy I interacted with Saturday night after dinner was totally rude and gross and just awful. But I'm feeling much better now. AND I have lots of things to tell you.
Saturday April 5th was the Prairie Fire Burn at Green Oaks which is Knox's outdoor field research station where students can come to camp, learn, and be off campus in a really gorgeous natural environment. I'd seen a prairie burn before at my high school a few years ago with my enviro class but nothing could have prepared me for how incredible the prairie burn at Green Oaks was. Kathy and I borrowed Greta's car and got lost 8 and a half times until we ended up in the town of Victoria about 30 miles away from Knox. W e nearly gave up looking for the location of the burn until we came to a part of the road that was lined with parked cars (and a sign telling us we were at Green Oaks!). We walk about a half a mile along a trail until we found about 60 or 70 people ready for the burn wearing bandannas over their faces. As soon as we got there students and teachers began to fire up the prairie which literally burst into flames in a sort of systematic way according to how the fire was placed in sections upon the prairie. It took a little while to move, but with the help of wind and some controlled fire the prairie was up in flames and burned within a good twenty minutes. It was totally awesome to see my schools mascot the Prairie Fire in action! I took lots of polaroids and after the whole ordeal, Kathy and I stopped at DQ for chicken tenders and honey mustard. It was quite a Saturday.
The week following the burn went well because it was MY BIRTHDAY WEEK, as I like to call it. Wednesday I started my first day volunteering as a Reading Buddy, in which once I week I go to Neilson Elementary school in town and read with a third grade student. We're currently reading American girl books, and it's seriously a walk down memory lane for me. Wednesday night was a mandatory meeting for Kappa, which actually turned out to be a really awesome surprise event that involved BIRTHDAY CAKE for the four girls who had birthdays that week! I seriously lost it, I was so excited for birthday cake! Thursday, Greta left for Chicago to go see Oprah, which meant I was left to my own devices my last night as a teenager. Some of the students from WVKC brought a hip hop group to perform in Post Lobby and it was a totally awesome way to bring in my birthday! I went to a party after the show, and some of the performers from the show came. It was really fun talking to them about music and touring and all that jazz. On my birthday, I was woken up by Abby decorating my room with balloons, cake, and happy birthday flags! It was a great surprise on Abby and Greta's part, and I really appreciated it. Oh, and the cake said "I AM NOT A HOBBIT".
Classes have been going really well here these past few weeks. In East Asian Philosophy we're finishing up our discussion on Confucianism, and I've really taken to a lot of the ideas concerning benevolence and moral virtue. I've found that I'm a more patient and controlled individual since I've begun studying the texts assigned, and practicing meditation this term has definitely helped me to feel more on top of things. Speaking of meditation, my Japanese art history class is going to be doing the Zazen meditation workshop sometime in the next few weeks which I'm really looking forward to. There's nothing like clearing your mind out for a period of time, I find that blogging is sort of therapeutic in that respect.
Japanese art history is going really great. We're well into the term with weekly student led presentations on performing arts. I'm also conducting research for my term paper on the sexuality present in shunga woodblock prints. It's a similar topic to what I researched last term when looking at sexuality in Cezanne's
Bathers
series, but this one has a completely non-Western twist to it, which is an area I'm really unfamiliar with but looking forward to discovering.
This is one of my favorite prints that I've looked at so far:
Statistics is going REALLY WELL considering that math and I don't go well together. I'm nervous about the midterm exam coming up next week, but I'm fairly confident since I've been doing so well on the homework and quizzes thus far.
Last week was nice because the weather started to clear up bringing with it spring weather. Additionally, last Thursday was really special because my professor/advisor Greg Gilbert gave a talk on Andy Warhol at the Figge Art Museum in Davenport, Iowa (http://www.figgeartmuseum.org/). A group of art history majors, studio art majors, and art professors drove to Iowa to check out the museum and support Professor Gilbert, which was really exciting for all of us. His talk was really interesting, and I especially liked his comparison of the peeled Campbell's soup can to the Dutch still-life vanitas paintings that I researched last year for my Baroque art history course.
As far as news goes, I am working with Greg Gilbert to snag an internship at The Galesburg Civic Art Center for the rest of ther term, and I have a meeting this coming Thursday. Additionally, my big big big news is that I WAS ACCEPTED INTO THE ACM FLORENCE STUDY ABROAD PROGRAM, which means that next fall I'll be studying in Florence. I'm really really really really excited! I also snagged an interview for the position of an Admission Suite Host for next year, which would be a really amazing experience for when I return from Florence. I have my fingers crossed for that position.
What else is new? I went home for Passover and the seder was really lovely. Dinner was lights out, and so was the desert my mom made (caramel and chocolate covered matzah). My mouth is watering just thinking about it. When I got back to campus, it was 75 degrees and sunny, and all of the flowering trees were in bloom.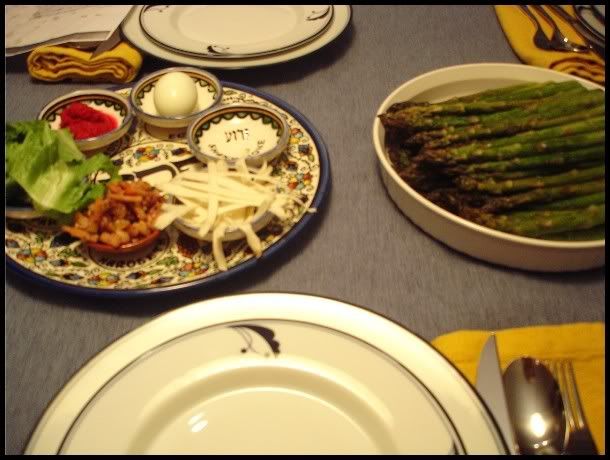 Knox is gorgeous, it's spring, and it's EARTH DAY. What more could I want? Oh I know. Seeing Mirah play at Grinnell this weekend for free and then seeing Escape the Floodwater Jugband when I get back into town!! This is going to be a busy but lovely week! P.S. I heard tomorrow is Flunk Day!!!