CARIBOU and ELF POWER were just added to the Pitchfork Lineup. Yes. Can someone hold my hand during Caribou? I think it's going to change my life. And DEVIN MILLS YOU ARE GOING TO DANCE WITH ME ALL THROUGH VAMPIRE WEEKEND OKAY!??!?!
Let's see, where did I leave off? The weekend of April 25, Lexie and I had a road trip to visit my sister at Grinnell to see MIRAH for free. The ride was really fun and terrifying because it was raining cats and dogs as well as howling gales outside but we made it safe and enjoyed a nice meal at Grinnell with Mari. We watched some short films, freshened up, and walked over to the campus chapel where Mirah was performing. It was totally beautiful and we got front-pew-seats. The lighting and environment was totally surreal and the acoustics were perfect for Mirah's amazing voice. She did a live performance of her latest insect-influenced album titled "Share This Place", and there was a stop-animation film that went to each song. It was breathtaking. She ended the set with three different songs, but my favorite by far was her cover of Nico's "Fairest of the Seasons".
After the show we went back to Mari's dorm and watched "The Others", which was honestly too scary for me. We slept, and in the morning went to breakfast at a greasy spoon diner not too far from campus. Breakfast for three was under fifteen bucks and tasted delicious. We did some shopping at consignment shops in town, and saw the Grinnell College Gay Pride Parade, which was totally fabulous. I love weekends like this.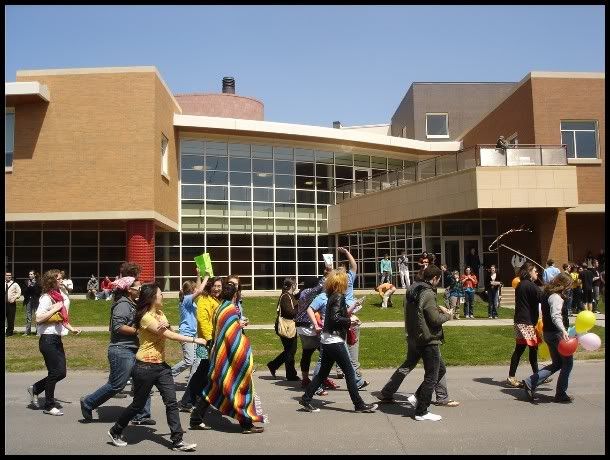 After all the excitement, we hit the road, and it was smooth sailing and country music all the way home. We stopped at the World's Largest Truck Stop for frosties and talked the whole way back. I really like Lexie. It was a fabulous weekend, seriously!
Last week was the art/art history field trip to Chicago, so naturally I went to Cornocopia the health food store in town to load up on snacks for the bus ride. We got some granola, and my new favorite, roasted corn. They were also selling this gorgeous locally grown asparagus, which we lusted over for a bit before dediding against purchasing. Greta and I walked around the downtown area for a while stopping any place we wanted. It was a fun afternoon before the trip.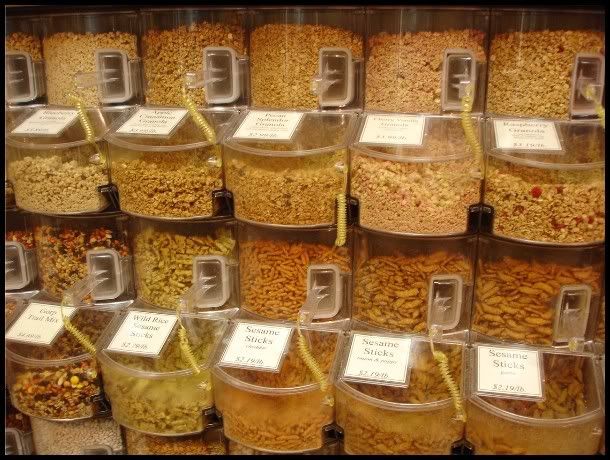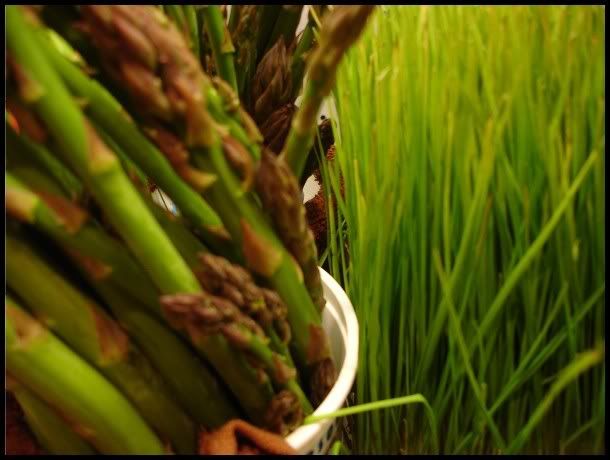 Chicago was really quite lovely, though I couldn't help but be stressed out about my Kabuki presentation for Japanese Art History the next day. I went to sleep knowing I'd have to wake up early to finalize bits and pieces of my powerpoint, when I was awoken to...
LOUD NOISES AND SCREAMING PROCLAIMING "IT'S FLUNK DAY"!!!!!!!
Which basically meant that all my classes were cancelled, everyone I knew got covered in mud, there were mechanical bulls and inflatable obstacle courses, Abe Lincoln and Elvis impersonators parading about campus, lots of food, Lucky Boys Confusion playing at my school, and a whole lot more. We basically had the best day ever and it took days to clean the shower/suite up. Totally amazing day.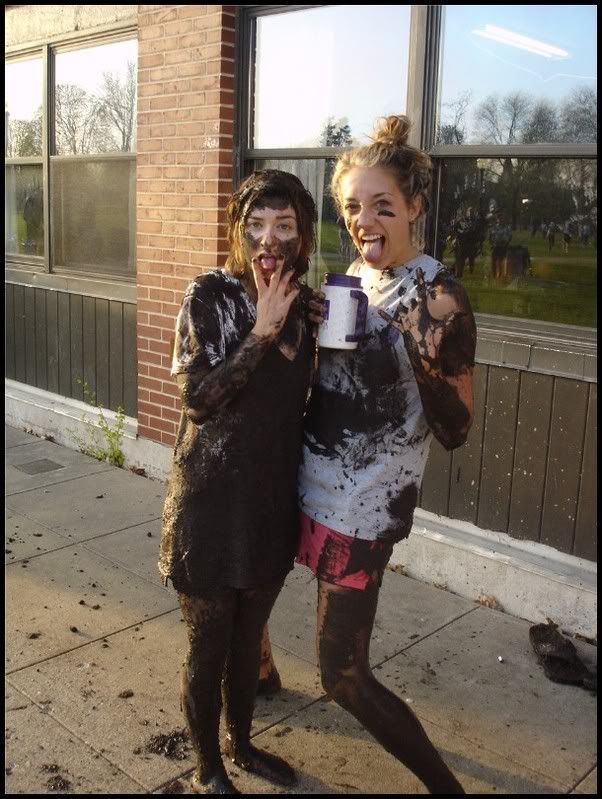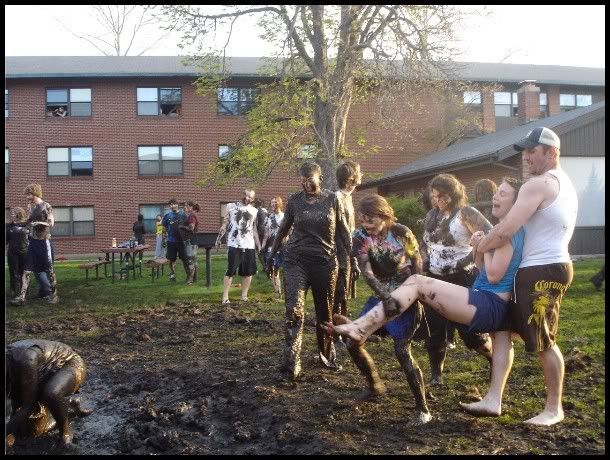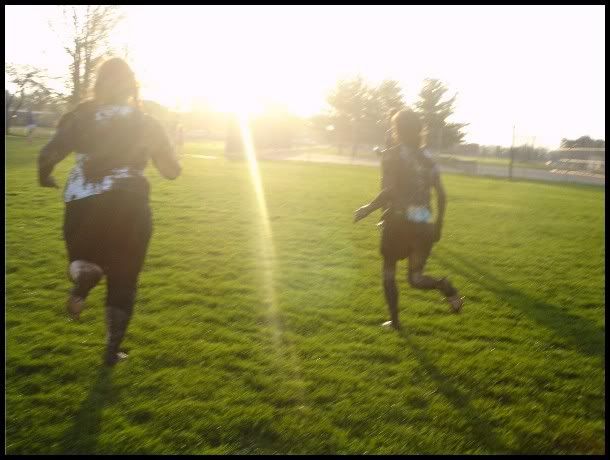 Friday I walked dogs with Greta at the Humane Society and we made a new friend named Marcus. I had a fit of bravery when I had to face my fear of dogs with a pitbull named Thumper. We had a lovely dinner at Chez Willie's and a relaxing night with friends. Saturday we went to McDonald's for breakfast, AND MARCUS the guy from the day before was there. Weird right? We also went to Farm King and Greta inquired about buying a goose, but I'm happy she didn't because I heard those birds are a pain to raise. Saturday was spent doing some cleaning, but mostly laying in bed because it was just one of those day. Saturday night there was a concert in Post Lobby and I wound up making a new friend for the summer which I'm really excited about. Sunday was Sunday, and Monday went by pretty fast which brings me to today and the gorgeous weather it brought with it.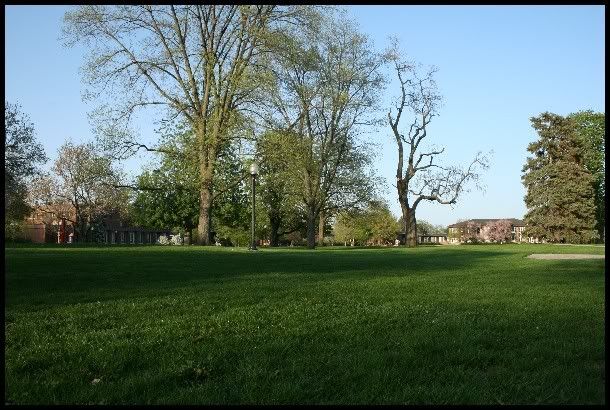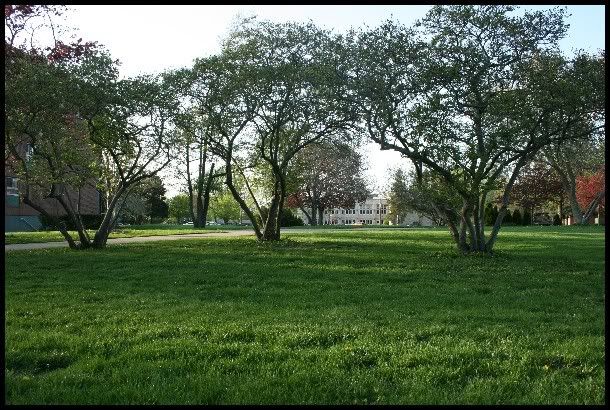 It was lovely out today and I read outside some. I also attended the Ikebana floral workshop for Japan: Art an Idea and it was so lovely. I love flowers.