currently listening to: the beach boys [endless summer] on vinyl!
thing i liked: the floating market [thailand]
this floating market is one of several around the world - and though the shopping wasn't that great, it sure beat the hell out of the heat, confusion, and sheer mess of the chatuchak market in bangkok, because what's better than shopping while reclining in a boat and having the stores float past you? nothing. if only we could implement this sort of shopping for the holiday season in the united states - and the deals would simply float to and from us as we take it easy, sip hot cocoa, and cross gifts off of our holiday list with sheer ease.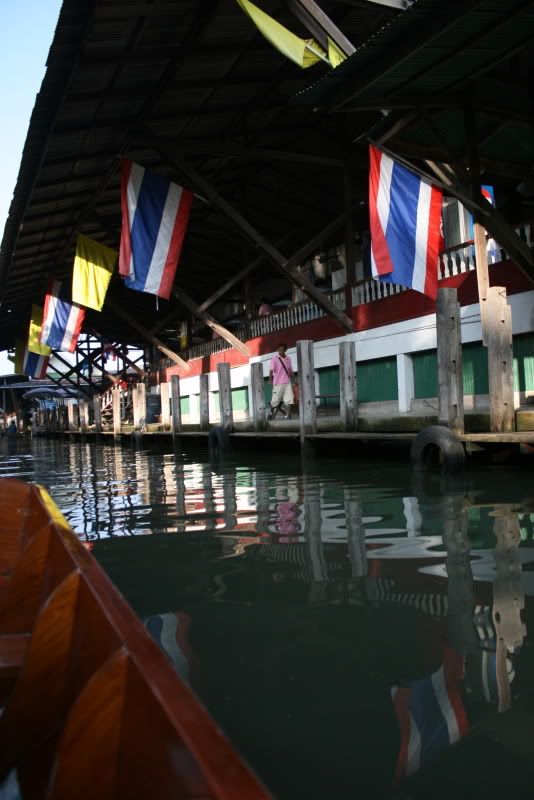 oh you know, just a typical day floating along canals in thailand
a floating hot food stand next to a store selling trinkets, basically every stand sold trinkets!
we did happen to float upon a spice stand where we purchased large bags of saffron and cardamon for next to nothing - i'm thinking we'll be making some paella in the near future!
i have no idea what this is other than a wooden pole covered in ribbon and flowers - gorgeous either way.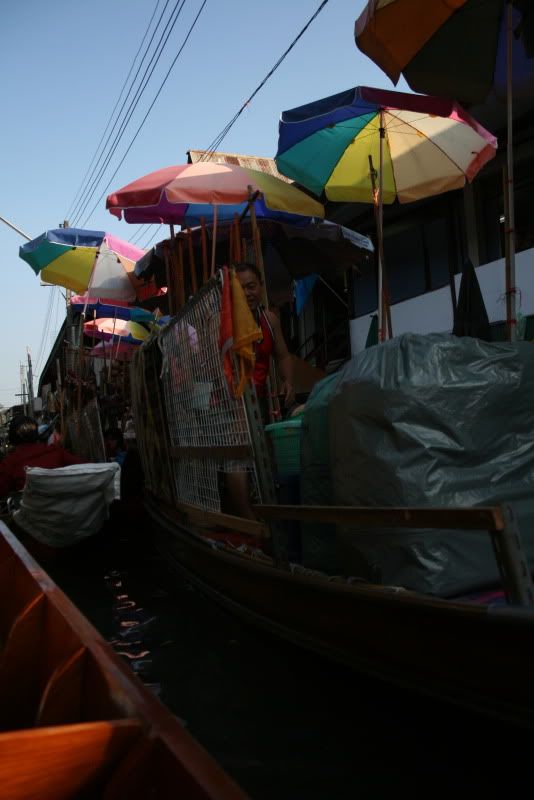 there was color in everything. i couldn't get enough of this place!
hats! everyone here had a hustle, there was a lady selling hats that could be folded into fans. they also had these huge canes where they could just pull your boat over to their boat/stand whether you wanted them to or not. apparently your cabbie/rower gets a small percentage of whatever you buy at the stands, so basically your best bet is to pretend you don't speak any languages, that you have no money, and that you just aren't interested!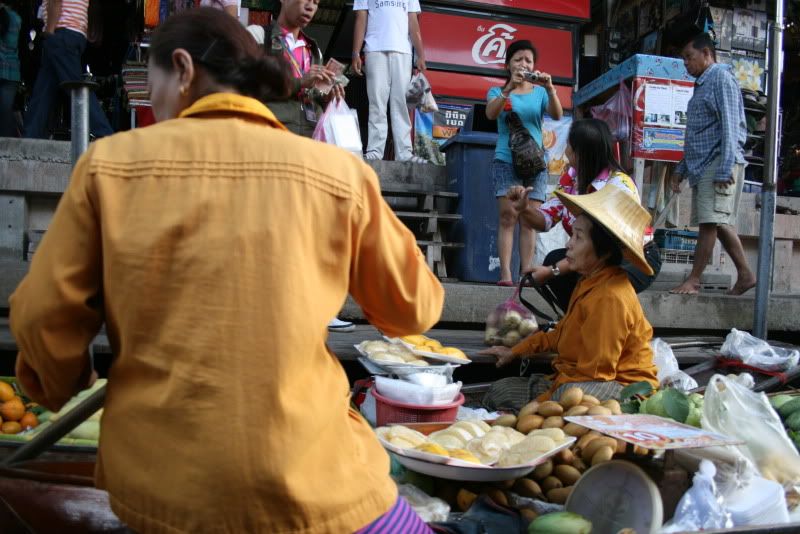 more fruit and food stands. behind this boat was a the heart of the market - you could park your boat and climb up to the shops in this shopping center. animal tee-shirts, buddhist sculptures, trinkets, kitsch, they had it all (none of which we really wanted).
a rower rowing across an intersection in the canals
our rower, taking us all over the place. when she dropped us off, she spoke the only words in english we heard from her all morning "excuse me maam, something for me?".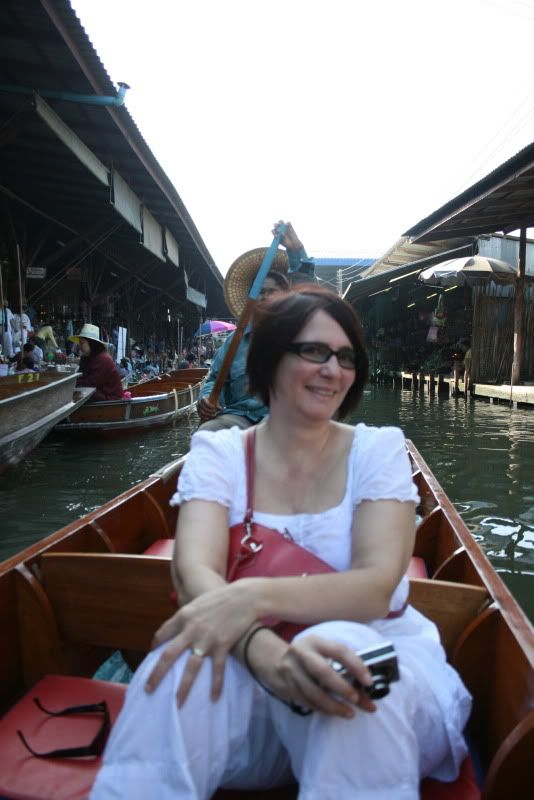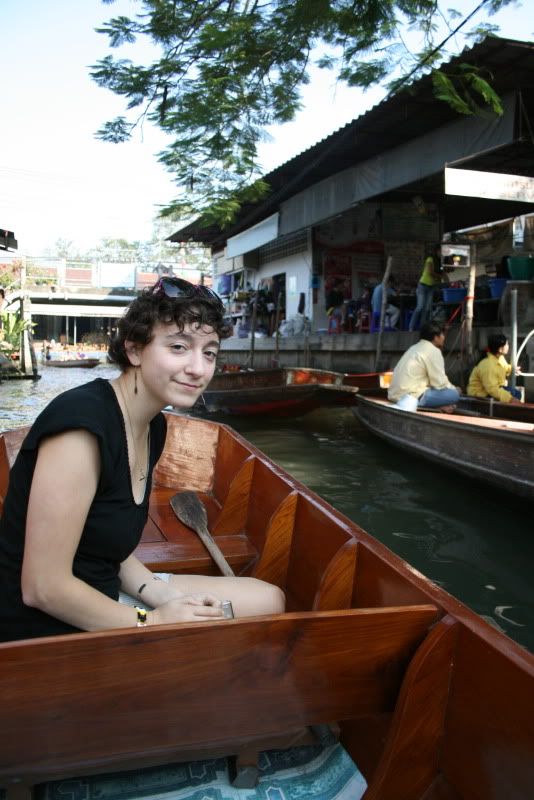 mari and mom posing for the camera, lovely models on this trip!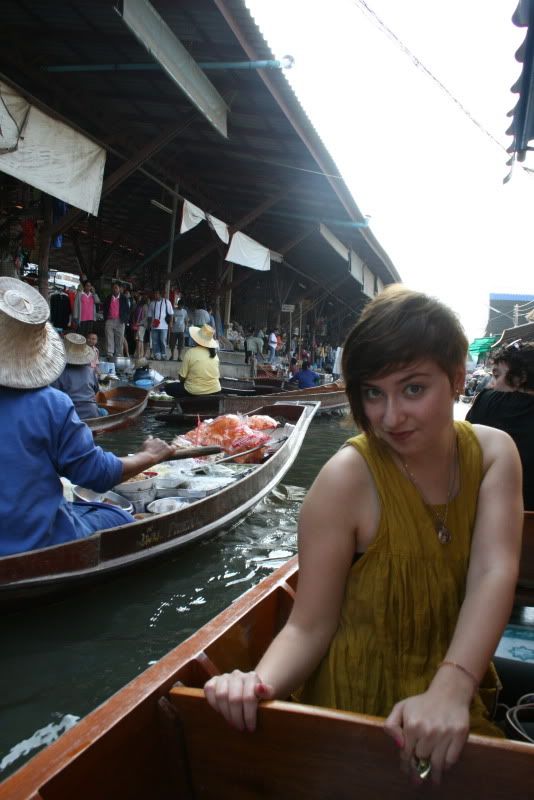 me, hamming it up for the camera aboard the boat.
stateside, things are getting back to normal. i'm still recovering from mean jetlag - hence the early morning posting. mom gave me a copy of the joy of cooking and a copy of julia child's mastering the art of french cooking - so my life is going to be very delicious and busy when i get back to school!
i'm currently working on applying for internships anywhere and everywhere in the museum world - and i've narrowed my list down to: the kimbell art museum (fortworth, tx), the norton simon museum (pasadena, ca), the art institute (chicago, il), and the shelburne museum of americana (shelburne, vm). needless to say, it's going to be a busy few weeks when i get back to school with applying for all of these wonderful opportunities! wish me luck.
okay, time to shower and head over to the milwaukee art museum for the warhol exhibition! then buying pies, then kentucky, then nyc for new years!