currently listening to: i luv u justin bieber!!! [a mix for devin mills]
this week has certainly flown by! all i can say is having a spring cold of allergies or
whatever this thing in my body is has totally thrown a wrench in my week, but don't
worry i'm still managing to do a lot and have some fun while i'm at it. i "finished"
another draft of my thesis, and at this point, i'm not sure why greg keeps making me
edit it. i've printed so many drafts and i'm starting to think this is all one big waste of
paper after a certain point in time. but no worries, it's pretty much where it needs to
be.
thursday was my final art history field trip to the art institute in chicago, and for some
reason i didn't feel a real sense of urgency walking around the museum. i think that
stems from the fact that i will be there everyday this summer, so i don't need to soak
up everything like i usually do. the weather was 80, sunny, perfect. i took some pictures
and did a chicago fashion shoot. speaking of chicago fashion, ben scott bumped into
tavi the new girl in town
which is good and nice, but i bumped into benjamin mckenzie
ie ryan atwood from the o.c. which to me is basically my dream come true. he's so
handsome in person and he was in the museum! score for me.
i have to go make deviled eggs, roasted eggplant dip, and clean out my closet.
c ya in a bit!
the modern wing and the school of the art institute
max's hot dogs and a downtown street
millenium park fountain & michigan avenue
a tree in blossom in the courtyard of my complex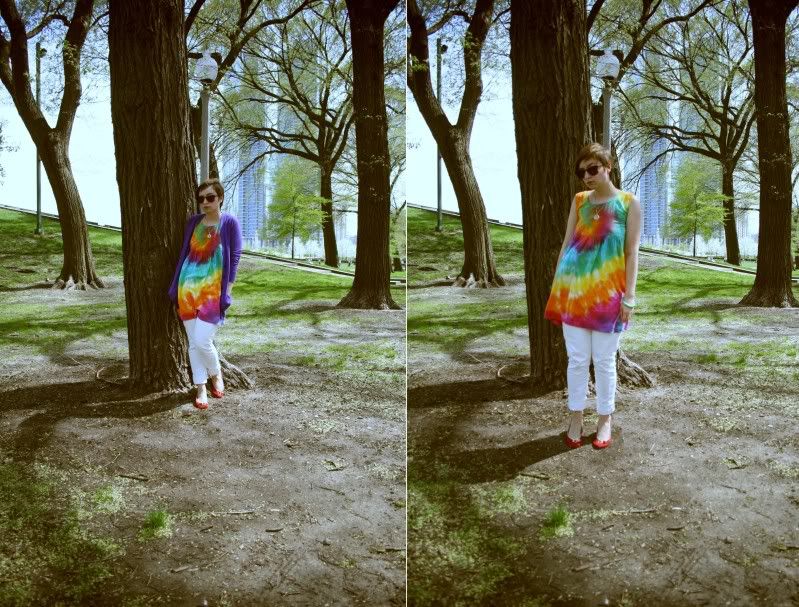 cardigan: j. crew, tiedye dress: my mom's, white denim: levi's,
flats: h&m, jade bangle: hong kong, necklace: thrifted,
sunglasses: fiesoli flea market