currently listening to: pedro the lion [control] (i always seem to come back to this album)
currently trying to finish reading: love medicine [louise erdich]
so on top of my art performance piece getting into catch, this week has been really fulfilling.
sunday mom and i cooked a lot of brisket. i'm talking 12 pounds of meat. mom did a majority of the work, but i took care of all of the side dishes (with the aid of my lovely hillel helpers). the seder was monday night, and for being the first one that i've ever organized/had at knox, i'm going to say that it went really really well!! here are some pictures from the event. i'm kind of bummed that i didn't get any before pictures of the food, but let me assure you, there was lots of it.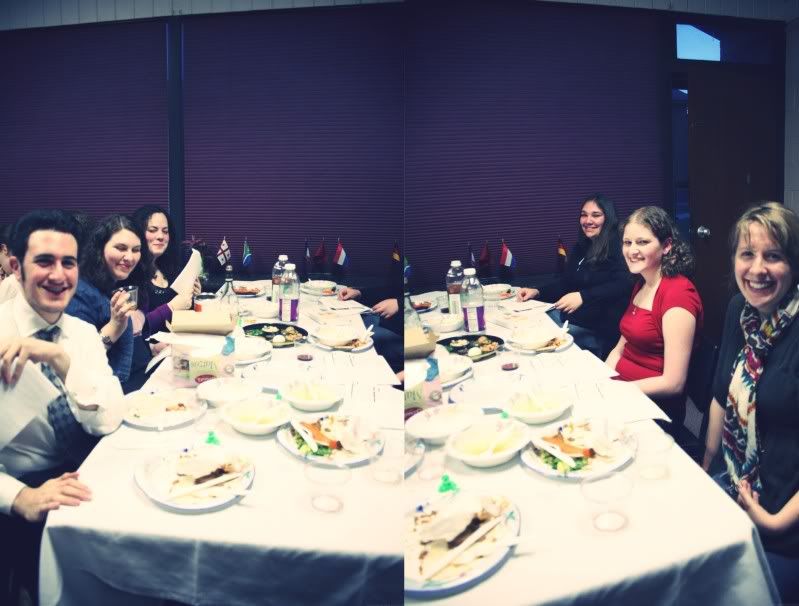 tuesdays and thursdays i have feminist philosophy and ceramics, and i love both of the classes very much. prof. bill young is so excited about every philosophy course he teaches, and it totally rubs off on the students, and i'm starting to feel really empowered from these readings! look out men! ceramics is fun, we're making 12" vessels inspired by nature, and i'm making a curving/undulating vase with circles on it inspired by the lunar cycle/waves/and the curves of the female figure. i'm probably going to name it j.lo. pix after it's done and fired. p.s. all of this wedging and rolling has got my arms feeling sore, in a good way.
the weather here has been spectacular. lots of lounging out and getting kisses by the sun, hence the lack of updates. but i'm having fun, relaxing, and just trying to enjoy the last bits of my time here at knox. emo. ps can you believe i picked up my cap & gown???? neither can i. i think making things is going to host a cap & gown bedazzle fest. i'm covering my cap in gold sequins. c:
and now for some good ol' porch sitting.
dress: free people, jewelry: thrifted, sunglasses: flea market in florence, shoes: target