currently listening to: jj [jj no 1]
Well the last week and a half has totally flown by and as usual, a ton has happened.
For starters, I got my thesis feedback last Monday, and have since finished my final
edits & written my acknowledgments page, which to say the least is a little bit sappy
if you ask me. I've been stressing on and off about this summer, next year, and the
impending doom that is graduation, but last Thursday I received the fantastic news
THAT I WAS SELECTED FOR THE ART INSTITUTE SUMMER INTERN-
SHIP! Basically, I got my dream job, I'm a mile from home, and I'm going to be
looking at art and working with people all day for eight weeks this summer. AND
since I'm going to be in Chicago, I can start committing to summer plans, which
include:
-Caribou and The Books at Millenium Park [FREE]
-The Wisconsin State Fair
-Camping with my sister
-4th of July Party at my place
-At least one day of Pitchfork
-Going to the beach on the weekends
-BEING SOCIAL WITH MY CHICAGO FRIENDS!!
My summer is looking mighty tantalizing as of right now. Also, my birthday was
this past Sunday, and my darling mother and best friend Adolfo decided to make
a surprise visit to come to Galesburg and cook me brunch - I was pretty speechless
when I got out of the shower and they were standing in my apartment! Mom, you
and Adolfo should both know that you rock. Brunch was delicious. My birthday
party was the night before, and it was Titanic themed. I wore my gigantic Titanic
tee-shirt that Greta somehow made look really really sexy on me, and I made
nametags for my guests who were either in first class or steerage. Steerage kids
had to drink Keystone Light & my fellow firsties were able to toss back a few
Gin and Titonics. Basically, I had a lot of fun with my themed party.
With midterms around the corner and the weather so very nice, I'm having a hard
time picking between lounging outside and hitting the books, but here are some
photographs from the last week.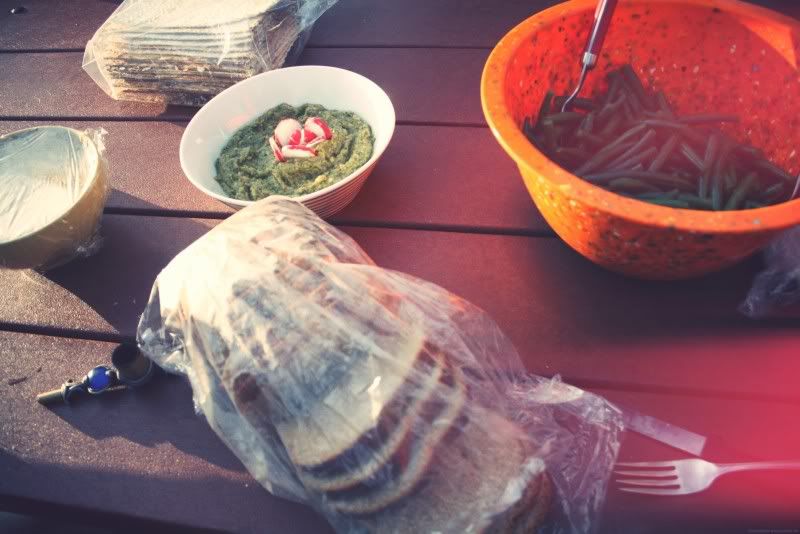 homemade greenbeans and roasted zucchini dip for portobello thursdays
sitting in the grass & wearing flats and sandals daily
admiring the knox tulips, which i came to this school for
Here are some more library shots. This is the Red Room, named so for the color
of its carpet. This room houses a majority of the art books, and I can't help but
feel happy knowing that my fields books are housed in the nicest room in the
library.
shorts & top: levi's, shoes: target, handmade vest: fred segal [santa monica], necklace: thrifted,
prayer beads: italia, silver beads: gift from tifanny & co., jade bracelet: gift from my
mother [hk], sunglassed: fiesoli flea market