Currently Reading: Middlesex by Jeffery Eugenides
Currently Listening to: My Best Friend Is You by Kate Nash
Graduation was exactly two weeks and one day ago. Everything in the past few weeks have
been a total and complete blur, what with packing, saying goodbyes, moving back
home, unpacking on top of The Blackhawks WINNING THE STANLEY CUP,
Cubs/Sox Crosstown Classic, and starting my internship at The Art Institute of
Chicago!
Graduation went really well. Unfortunately due to rain showers we had to hold it in
the Fleming field house but Tina Chen was great, and all of the graduates including
myself seemed to enjoy commencement. I coved my cap in rainbow sequins, but
as of now I don't have any pictures of it! I'm also working on getting some family
photos to post, but I'll put up two of my favorites from the day.
Moving out of the dorm/ moving back in has been really hectic BUT my family has
been super helpful with the whole process, so THANK YOU FAMILY. Mari has
been particularly wonderful with reacquainting me to city life, keeping me out and about
every day the first week home.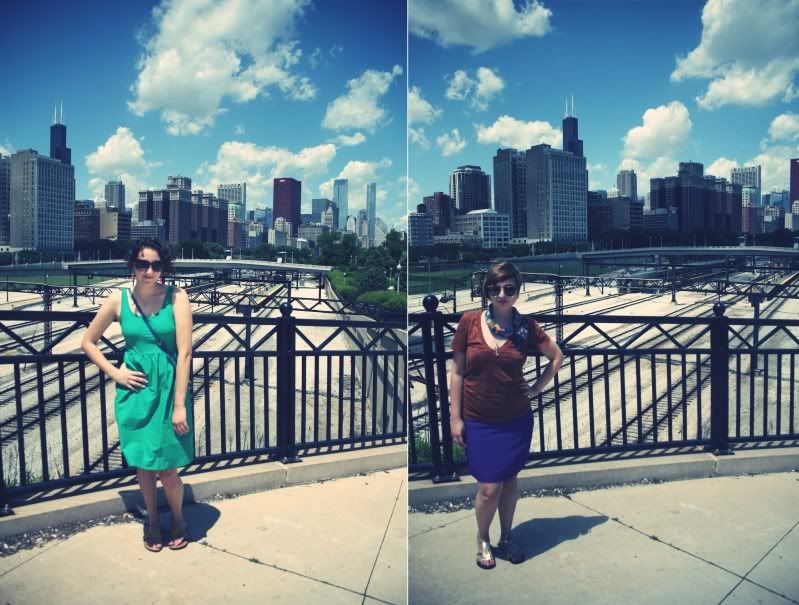 We did a sort of
Tour de Downtown
which included walking to The Adler Planetarium,
taking a water taxi on the lakefront to Navy Pier for cheeseborgers at Billy Goat Tavern,
going to the Crosstown Classic, watching the Blackhawks win it all at a local bar,
attending the Blackhawks Stanley Cup Parade, and RIBFEST on the north side.
Adler Planetarium Atrium
I am wearing - shirt: merican Apparel [borrowed from Mari], skirt: thrifted,
shoes: Target, scarf: gift from Bscott, key necklace: Tiffany's [gift from Mom],
Faux Longchamp: The Ladies Market [Hong Kong]
On the water taxi from Museum Campus to Navy Pier
Watching The Blackhawks win the Stanley Cup rocked our world. The whole
event was exactly what this city needed. Chicago, you rule. You are the best city
in the world!
Mari and Ben anxiously watching the game
Ben freaking out!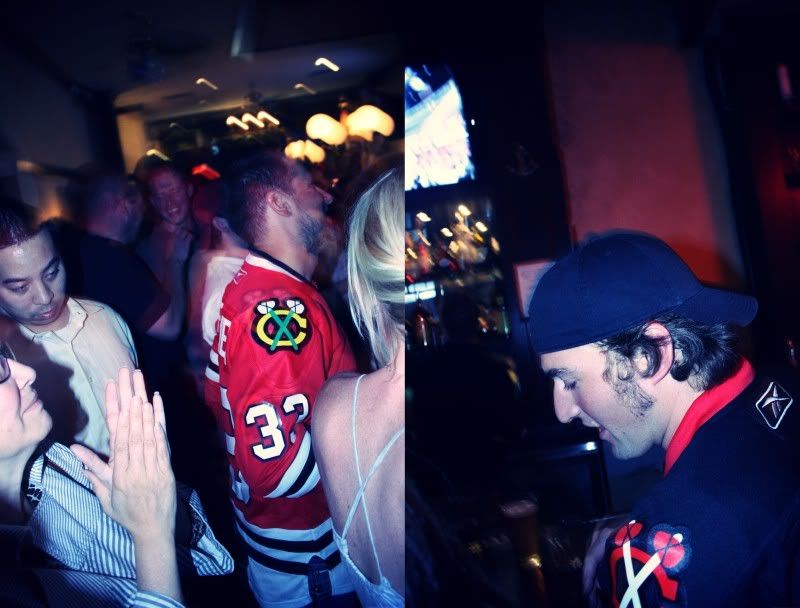 Mom and fans in the bar crowd cheering!
And then there was the parade. Over two million people showed up. It was sheer
chaos. We stood in a sea of bros dressed in red, and I loved every second of it.
There were two Cups, one was a fake, one was real. I'm not quite sure what the
deal was with having a fake cup, but we got to see both which was real swell!
Look in the top left corner for The Cup!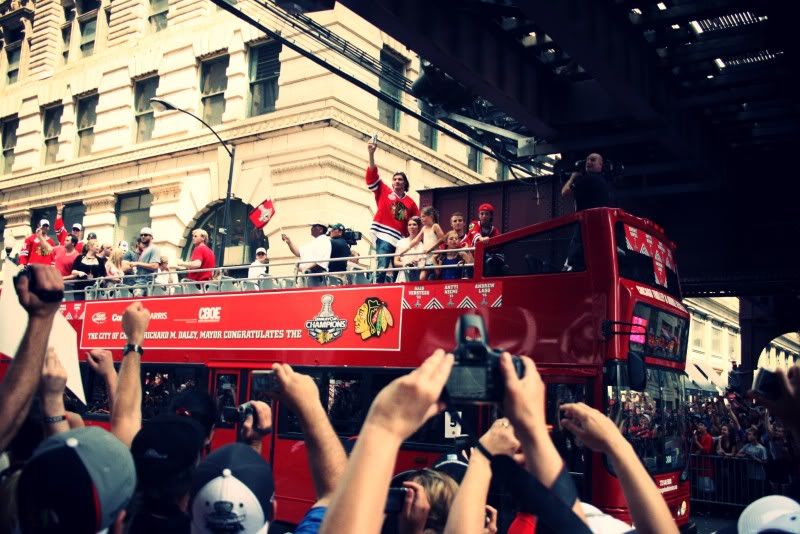 And of course there was the Cubs/Sox game which we happened to win on Cubs turf.
There's nothing like being a total b. to Cubs fans in their own stadium. We had total
nosebleed seats, two rows from the back of the park, and a dude in my row actually
got a nosebleed. It was absolutely unbelievable. They weren't joking about that altitude!
I don'e have any pics from my job, but once we're done with training, I'll be sure to start
documenting. I do have to say that though it's been really stressful thus far, our mentors
in Museum Education are cramming so so so much information into our skulls that I
will leave this job with a pretty good sense of how museum education is practiced in
such a large scale international museum. Plus there are the perks: all access pass to the
museum, getting to go into closed galleries, looking at art before the museum opens and
after it closes in all sorts of different light, getting into a whole slew of Chicago museums
for free, discounts at the cafe and museum stores, having a fabulous job downtown,
SEEING ART ALL DAY.
Yeah, I'm loving it.