Currently Reading: Job Applications
Currently Listening To: "Let's Pretend We're Bunny Rabbits" by Magnetic Fields, 69 Love Songs
Been trying my best to keep busy these days. It's hard to have the discipline to keep a schedule
for myself when I'm out of school and out of work, but I'm really sincerely trying. An upside is
that will all of this free time, I have time to read, and write, and cook, practice yoga, and blog -
something that I truly cherish after 17 long years in school. Plus when I get back into grad school
work-mode, I'll definitely take advantage of it!
I've been making some really great salads this summer, thanks to my dad's incredible greens and
his fantastic herb and tomato/eggplant/peppers garden. I have been feasting like a king this entire
summer. Speaking of, gotta go grocery shopping to get dinner ready for tonight and tomorrow
because it's ROSH HASHANAH!
Happy Jewish New Year Y'all. I need to figure out some new years resolutions. Any suggestions?
This outfit is pretty typical of what I've been wearing lately, since I'm doing a lot of little projects
around the house. No need to get all gussied up, but I'm definitely way more productive when I'm
out of PJs. I'm really digging everything at Anthropologie right now (as usual), and I just applied
to work there! Fingers crossed...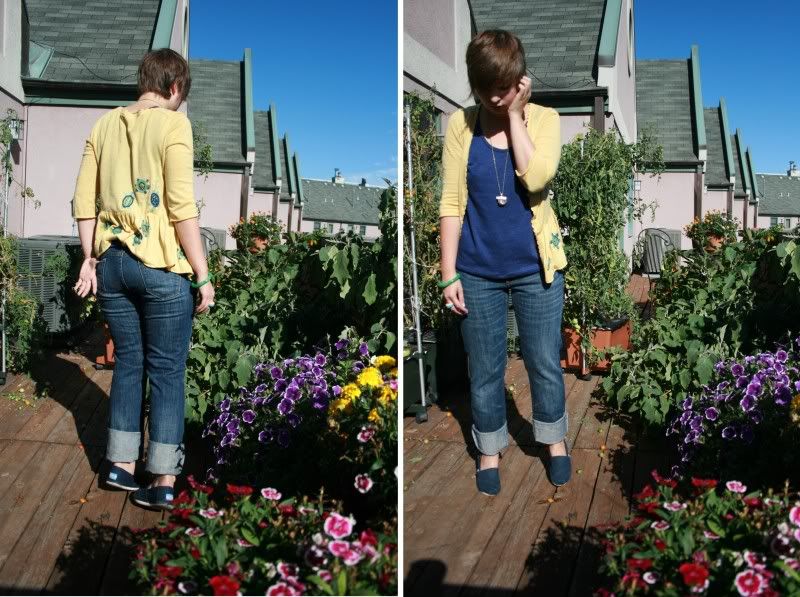 Cardigan: Moth [Anthropologie], Jeans: Banana Republic [thrifted], Tank: AA [rummage sale]
Shoes: Tom's [Hansen's, CA], Jade Bracelet: Hong Kong, Rings: SFMOMA,
Necklace: thrifted/gift
Fresh Greens, Orange Bell Pepper, Basil and Tomato from Deck Garden,
with Homemade Green Goddess Dressing