Currently Listening To: Grand Ledge by Paul Baribeau
Currently Reading: Vacation by Deb Olin Unferth (whose brother went to Knox!)
My most recent post mentioned the absurd amount of Sandy-oriented activities occurring in Chicago
this past week, and I've done so much in the last 5 days that I'm surprised my head hasn't exploded!
Wednesday September 1st was the Paul Baribeau show at The Funhouse, which is a sub-free, vegan,
artist's collective in Logan Square. I've been wanting to see Paul for about three years when I first
started listening to him, and this was the perfect setting - a small house show, good people, great
energy. Busman's Holiday was a fantastic opening band - two brothers with great harmonies,
and sweet whimsical lyrics, pumped to be on tour, and playing off of one another the entire set.
Paul was amazing. He started off jokingly playing Atlantic City, a Bruce Springsteen cover from
Darkness on The Edge of Your Town, which got people pumped. He played through a bunch of
new songs off of Unbearable, and then traveled back to Grand Ledge, and his Self Titled - asking
the crowd what they wanted to hear, making jokes, and constantly starting and stopping the intro
to songs to make fantastic concert banter. The crowd was so into it, that at times he had to ask us
to calm down, relax, and let him do some of the singing. Seriously, we were belting the lyrics
faster and louder than he could.
For the last song, he asked what we wanted, and I made eye contact with him, asking him to
please please play Ten Things, that it was my favorite song of his. AND HE DID AND WE
SCREAMED AND SHOUTED THE LYRICS TOGETHER IN THAT HOT HOUSE.
It was so fantastic that I'm going to go see him in Lexington and Louisville in two weeks because I
can't get enough of it.
Here are pictures from the show, and some fashion photos of me rocking his shirt.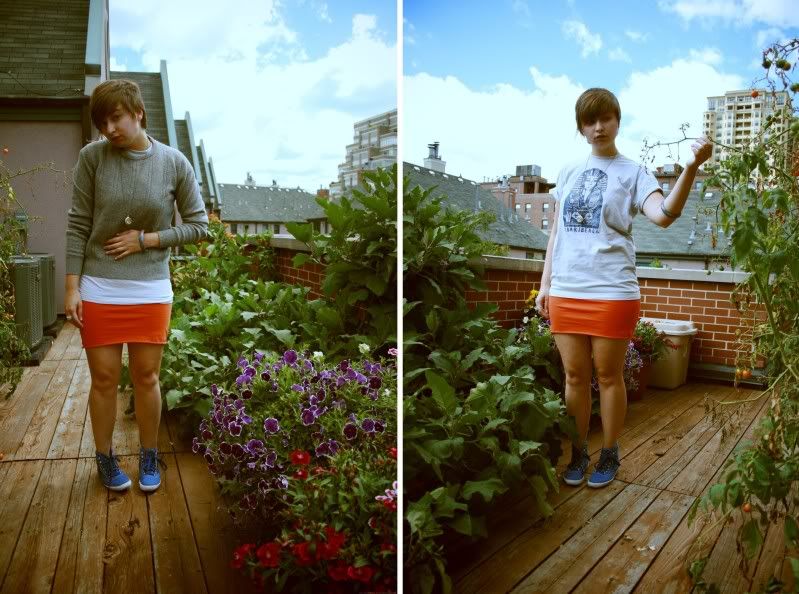 Shirt: Paul Baribeau [silkscreened American Apparel tee], Pillowcase Dress: American Apparel,
Sweater: Vintage Jaques de Loux [Buffalo Exchange], Hi-Tops: Keds
Bracelet: Vintage French [Consignment shop in the Bay Area], Rings: SFMOMA Gift Shop,
Sisters Necklace: Found Object
I bought Unbearable on vinyl, and he autographed it for me!
Well, other than that, on Friday I saw Cremaster 1, 2, and 3 - and my only words are if you ever have
the chance to see these screened - DO IT. 5 hours of Matthew Barney, what more could you ask for??
I'm going to see 4 & 5, and his new film De Lama Lamina at The Music Box tonight. Pumped.
And Vampire Weekend was really really really fun. Met a bunch of high school kids who made me
feel old, got super sweaty dancing and singing, had way too much fun, and got hot wings and
Delerium Tremens after at a bar across the street. What more could I want??