One of the most common questions I get regarding my job is "What should I see when I visit?" or "What's your favorite work on display?" The work in the galleries changes as rapidly as the weather here in Chicago, so it's hard to answer that question before taking a stroll through the museum complex. While I tend to have long standing favorites, include Cezanne's
Basket of Apples
, Wright's
Avery Coonley Playhouse, Triptych Window
, Charles Ray's
Hinoki
, and O'Keeffe's
Sky Above Clouds
; I like to suggest something that is new to the collection, rotating, or part of a limited-time exhibition. Right now, one of my favorite galleries is Gallery 292, in the Modern Wing.
Currently on display in Gallery 292 are photographs from artist
Rineke Dijkstra's
Beach Portraits
series. I remember seeing the catalogue for this series a year ago in the book shop, and instantly being drawn to the calming and cool shades of blues, greens, and grays in the photographs. Flipping through the book, I found that though the color tones spoke to me, the images of adolescents in bathing suits seemed jarring, cold, and confrontational. How interesting that photographs of kids at the beach could seem cold and crass even - something about them is very forward and uncomfortable. Both the book and the photographs remained ingrained in my memory, so I was pleasantly surprised to wander in the galleries a month ago to discover these large photographs staring back at me. They really are just as beautiful as in the book, and incredibly arresting.
Brighton, England, August 21, 1992, from Beach Portraits, 1992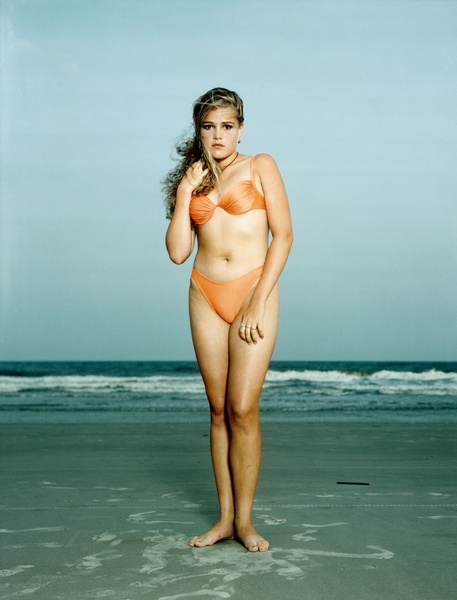 Hilton Head Island, S.C., USA, June 24, 1992,
from Beach Portraits, 1992 via
source
If you're in Chicago and have a moment to see these, I really insist. And if you happen to be in the San Francisco area between now and May 28, there is a
Rineke Dijkstra Retrospective
currently on display at
SFMOMA
that is to-die-for!